BV Simplifies Ship Certification System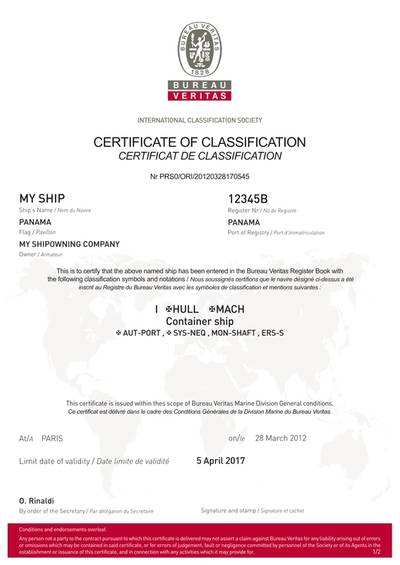 International classification society Bureau Veritas has put in place a completely new IT-based certification and ship status system. It is aimed at reducing the workload of shipowners and operators and simplifying access to ship information and status.
"In a world where so much is now done online ships' certificates are the last great area of outdated paperwork," explains Claude Maillot, Ships in Service Director, Bureau Veritas. "We have seen the ship's classification certificate grow from one simple page into a document with many pages and annexes which are built up of both printed and handwritten entries. It has become unwieldy, error-prone, open to confusion and difficult to maintain. Bureau Veritas' new certification system once more makes the ship's Certificate of Classification a simple one page document. Everything else is online in a standardised and easy to access format. That cuts down the chances of error, confusion and fraud and enables us to add new services to make life more efficient for ship owners and operators."
The new Bureau Veritas Certificate of Classification contains only the key identity of the ship and notation information. It is printed on recycled paper embossed with a logo to prevent fraudulent copies. All the other information which used to be attached as annexes is now updated electronically and can be accessed by owners and by charterers and port authorities if given access by the owner.
"Authorized users can go to www.veristar.com and print off what they need on Ship Status. It can be tailored to be as detailed or a simple as they require. The new Ship Status is made up of a number of sections (ship particulars, owner/manager information, cargo and ballast capacities, class and statutory status, planned inspection items, 1-year survey planner, continuous and/or PMS lists, regulatory information, BV contacts) and the shipowner may decide to print each of these sections separately according to the information needed. The section Class and Statutory Status contains all certificates, which is what most authorities and charterers need, surveys, audits, recommendations, non-conformities and memoranda. The owner can print this section completely or only the to-do list, and in that case the owner may choose items due in 1, 2 or 3 months. This system avoids confusion as there are no more hand-written updates or recommendations on certificates," says Maillot. "At the same time we have enhanced the way owners and operators can see the ship status, which will help with planning maintenance and surveys. There is a graphical presentation of all surveys, audits, recommendations, non-conformities and planned maintenance and continuous survey items due in the next 12 months. Owners tell us this will help a lot to keep abreast of all requirements."
The new system also allows the ship's staff to update the central record via VeriSTAR Info when planned maintenance items have to be done by a specific date. The item is then verified by a BV surveyor on the next ship visit. "Masters will love the new system and the Ship Documents folder and USB-key version we will supply to all ships because it makes organisation of all the paperwork needed for PSC and charters' inspections much simpler to maintain and present," says Maillot. "It sounds simple, and simplicity is what we want to deliver, but we can only do that now IT has caught up with the requirements of shipping."