Delta 'T' Offers Marine Hook Load Testing, Certification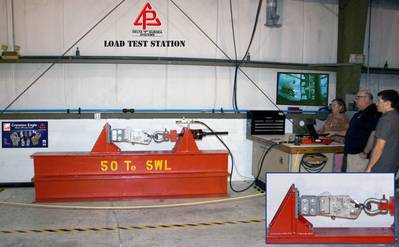 Delta "T" Systems enables critical load testing & recertification for marine hooks, to ensure they will perform as designed.

As the full-service agent for Cranston Eagle marine off-load hooks in the United States, Delta "T" Systems is a local source for parts, service, classification society witnessed load testing and recertification of the Finland-based Cranston Eagle hook line.

Delta "T" Systems has set up a full load testing facility through their engineering division, Delta "P" Subsea Systems. Load testing and recertification is overseen by the highly experienced VP of Delta "P" Subsea Systems, David Dupont, who has more than 28 years of engineering design and testing experience in critical load path marine structures.

When Delta "T" Systems receives a hook for rebuilding, testing and recertification, it is often grossly past the five-year recertification date. It is commonly improperly lubricated and gummed up with dried grease, and the operational labels are faded or completely missing. Neglecting this critical piece of life-saving hardware comes at a very high price.

The company recommends that operators should check their vessel's hooks to make sure their testing and certification is up to date, and then adhere to the hook manufacturer's schedule of periodic inspection and maintenance. Doing so will reduce the chance of an incident and the associated liabilities.