CPE Certified Port Executive Program Welcomes New Members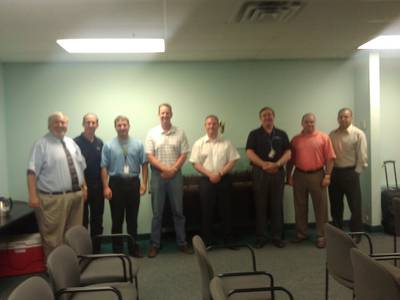 Capt. Jeffrey Monroe, MM, Chairman of the United States Department of Homeland Security Secretary's National Maritime Security Advisory Committee, and former Chairman of the US Coast Guard's National Maritime Safety Advisory Council, completed the first seminar for US port executives at the Philadelphia Maritime Exchange in Pennsylvania.
This was the first program offered in the US by Canadian interests. Capt. Monroe, a licensed master mariner with a Master's Degree in Transportation management, developed the 40 hour Certified Port Executive ProgramTM for MacDonnell and has trained over 300 senior civilian and military personnel throughout Canada including the Canadian National Defense Force Transportation Command.
"The CPE Certified Port Executive Program is designed to enhance the skill sets of port executives. We needed to offer a program for executives that built on their experience and allowed both senior and up-and-coming personnel to enhance their management capabilities," said Monroe. "This program is designed with an intensive focus on port management and development from the executive's view point."
The CPE CERTIFIED PORT EXECUTIVE PROGRAM welcomed six new graduates of the program at the completion of their program in Philadelphia earlier this year. Receiving certificates were;
Sean Clancy, Dole Fresh Fruit Company
David Charlton, Prince Rupert Port Authority
Amador Cardenas, Alcoa Materials
Bob Anderson, ICL
Pat McTaggart, Penn Terminals
Mike Nesbitt, Sunoco
Jeff Culbertson, Penn Terminals
"The Instructor systematically integrated practical, real world experience during the course to address the strategic as well as the day to day problems that may arise within any typical port environment - public and/or private," said Culbertson.
This port management program is a five day course designed to provide participants with a professional education opportunity related to the operations of ports, vessels, marine terminals and the related transportation system. The program gives participants tools and knowledge to make their organization more effective and has drawn the attention of a broad cross section of executives from all over North America.
The CPE Certified Port Executive Program creates a new learning pathway for professionals in the port world. Course topics include an overview of the worldwide intermodal transportation system; port and terminal operations; cargo management; safety and security; emergency planning and response; public and media relations; environmental management; and strategic, master, and business planning.
Company President Ralston MacDonnell summed up his company's interest this way. "MacDonnell Group is committed to improving the competitiveness and sustainability of North American ports, and we will continue to develop innovative training and information sharing programs for the port and maritime industry." MacDonnell has trained more than 10,000 port employees throughout North America in maritime and port security, and hosts annual conferences to provide a gathering space and forum for sharing best practices in operations.
The new graduates join alumni of over 100 port, transportation and military personnel who have participated in the program since its creation in 2010.

Future sessions will be held in the following cities:
Ottawa: Sept 10-14 2012
Vancouver: Oct 15-19 2012
Miami: Dec 10-14 2012
Philadelphia: Feb 4-8 2013
New Orleans: Mar 4-8, 2013