Floscan Helps to set Burmuda Challenge Record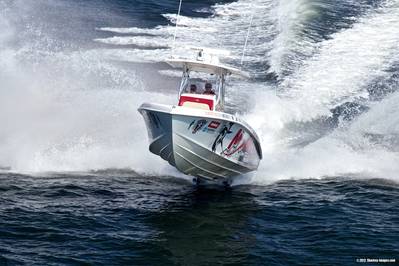 Completes non-stop run from New York to Bermuda in 21 hours 37 minutes.


On the far side of the Gulf Stream 760 nautical miles away from the U.S. mainland lays the beautiful island of Bermuda and the final destination for an unusual race that pits men in small boats against nature and the clock. The Bermuda Challenge has been described as "the longest single powerboat race in the world," a dash across open ocean without benefit of refueling that has been attempted numerous times since the gauntlet was first laid down in 1994, but only completed by a few.


Chris Fertig is a retired US Coast Guard mission commander who dreamed of breaking the current Challenge record of 22 hours, 23 minutes set in 2002. After two years of study, design and experimentation he boarded his customized Statement Marine 37' center console powered with Mercruiser TDI diesels monitored by a state-of-the-art FloScan fuel computer on August 4, 2012 in New York Harbor. At 7:09 AM the following morning he made landfall in Bermuda achieving his goal.


"Long distance, open ocean endurance racing is a balancing act between speed, fuel consumption and equipment failure," said Fertig in a recent interview. "The ability of our FloScan FloNET fuel management system to accurately report our fuel consumption and predict our corresponding range based on sea conditions as they unfolded during the race was a key component of our successful Bermuda Challenge World Record. Having complete confidence in our fuel consumption performance enabled us to run longer and faster with less fuel reserve ultimately allowing us to shave almost an hour off the previous record!"


The FloScan FloNET system employed by Fertig included FloScan's proven opto-electronic turbine fuel flow sensors, renowned for their accuracy and rugged reliability in tens of thousands of marine applications. The flow rate data was routed through the revolutionary FloNET module, converted to NEMA 2000 that interfaced directly with his Simrad navigational electronics display. It provided instantaneous and continuous readings of gallons per hour; gallons remaining in the fuel tanks; nautical miles per gallon and projected distance to empty right on the Simrad LCD screen.



According to Fertig the single most important aspect of the project was fuel management. "We knew exactly how hard we could push the boat under every sea condition we encountered thanks to FloScan technology," Chris reported. "We hit some pretty gnarly 6' to 8' seas at the north wall of the Gulf Stream that slowed our progress and increased fuel consumption, but we watched our FloNET readings, kept hour-by-hour log entries and projections and knew we had more than enough fuel as we got into calmer seas on the other side."


The FloScan FloNET system is so accurate that it let Fertig compensate for greater fuel consumption at the start compared to what they would achieve later in the race. Leaving with 686 gallons on board the boat was running at 1.2 nautical miles per gallon, not enough to make the 760 mile trip. But as fuel levels dropped fuel economy increased and by the half mark overall performance rose to 1.6 MPG leaving them with more fuel in reserve than would be needed.


What does this mean to pleasure boaters or commercial boat operators? The FloScan performance advantage that helped Chris Fertig set a new Bermuda Challenge World Record is the same performance advantage that can help you identify the optimum performance points for your boat helping you cruise further, burn less fuel and even identify potential problems that can cost you more money each time you fuel up. It is one critical piece of marine technology that can save you money and a system for your boat is less expensive than you might imagine!


FloScan offers affordable fuel computer systems for a wide range of gasoline and diesel applications that can pay for themselves in fuel savings in no time. Chris Fertig wouldn't leave the dock without his FloScan. Why should you?