New WSS Asia VP Talks of Challenging Market at Marintec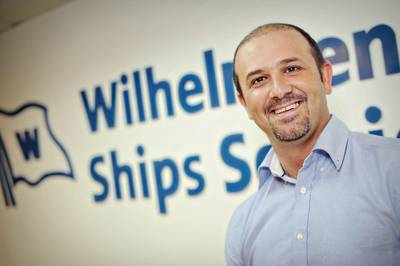 'We are still in a challenging market - Asia is no exception, says new VP for WSS Asia Pacific

Regional Vice President Asia Pacific, Neal De Roche says Wilhelmsen Ships Service (WSS) remains focussed on providing innovative solutions to client needs.

Speaking as he takes up his new role in Singapore, following five years in Shanghai, De Roche says the recent recovery of some shipping segments should not be taken as a sign of a return to a simple 'business as usual' scenario.

"It has been struggle over the last few years. We are still in a challenging market and Asia is no exception. Despite perceptions to the contrary, China is a quality not a quantity market," he says. "Credit risk will continue to be a challenge in the current trading conditions. But there are signs of recovery and we will ensure we are ready as the market improves further."

New offers, promotions and campaigns are under preparation to roll out during 2014 covering Ships Agency, Technical Services and Safety, areas De Roche says can add further value for customers. He believes WSS is well-positioned in its core business sectors to draw on support from a diverse customer base, including marine chemicals, marine products, safety systems and ships agency.

Nonetheless, he accepts that competition will continue to be tough within China and the wider north and south Asian regions, even as the trading environment improves.

"We have had great success in China thanks to our investments in operational service and support. We now have around 10 owned offices in various locations covering the most important ports," he says. "Our challenges are in continuing to develop innovative offers which add value to our customers and enable us to operate sustainably long term. Operational efficiency is a big focus area and this will be at the top of our agenda. The more we can optimise, the better we can serve our customers and ourselves."

De Roche says the core WSS philosophy – helping clients meet their efficiency and safety compliance needs – will see the company push forward as regulatory pressure increasingly impacts day-to-day operations.

"Our maritime expertise and focus in specific business streams sets us apart from the rest and gives us a unique advantage. We rely on and will continue to build on our global network capabilities to ensure we are at the right locations for our customers both operational and commercially. Basing our regional office in Singapore provides an opportunity to connect with key traders, charterers and shipmanagers and take advantage of the logistics advantage offered by a central delivery base."

Neal De Roche began his shipping career at 16, when he joined his first ocean-going vessel as a navigation cadet. He joined the Wilhelmsen group in 1997 and served as Area Director for East and South Africa based in Dubai, then as General Manager, Abu Dhabi and in various positions in South Africa. He was Area Director for North East Asia, based in Shanghai and responsible for China, Hong Kong, Japan, South Korea and Taiwan before becoming Regional Vice President Asia Pacific in mid-2013.