nv charts Update Puerto Rico Charts for 2014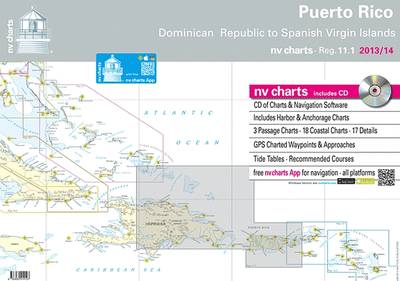 nv charts announces the release of their newly updated chart set for Region 11.1, Puerto Rico, updated and meticulously surveyed and now available just in time for cruising the Caribbean Sea during the winter months.

The set includes the north coast of the Dominican Republic , and is available in a variety of formats – paper, digital, memory cards for chartplotters, and with nv charts' new iOS App for navigation with mobile devices. nv charts' Region 11.1 is provided in paper and digital format for sailors, motor boaters, fishermen and professional mariners, and cruising enthusiasts. It includes the following:
Three Passage Charts
18 Coastal Charts
13 Details & Approaches
GPS Charted Waypoints
CD of digital Charts
Navigation Software
The set is designed to fit neatly on a chart table and is based on reliable data from various sources including nv charts' own survey data, with a new layout, clear cartography, and international chart standards. nv charts offer unique features not found in other chart sets, e.g., more distinctive shore and shallows cartography, aids to navigation and light characteristics, tidal information, and even helpful pages in the back outlining symbols, legends, and other data that help the navigator interpret the information in the chart. The cartography is visually distinct; unique color differences make specific depths, shoals, reefs, exposed tidal areas stand out for quick, easy recognition. Also, lighthouses illustrate their light characteristics for better identification. Legend pages at the back of the set provide a guide to symbols, legend and other data that help the navigator interpret the information in the chart. nv charts produces charts for mariners in paper, digital format for use on PCs, and provides a free App for navigation with all iOS and Android mobile devices.

nv charts products in digital format are also available on SD memory cards for chartplotters including Lowrance, Simrad, and B&G chartplotter systems, and are compatible with all instruments in the Lowrance HDS Series, Gen. 1 & 2; Simrad NSE, NSS, and NSO systems; and all B&G Zeus series systems.

nvcharts.com.