Boat Checklist in Second Printing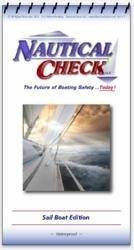 NauticalCheck's boating regulations checklist for power boats & sailboats available by late summer 2013.
NauticalCheck provides boaters immediate access to critical boat sefety information as well as the most comprehensive checklist available. NauticalCheck presents an operational/safety/maintenance checklist that covers the items needed to make your boating experience as trouble free as possible.

NauticalCheck offers their boating regulations and safety checkbook in two categories: Power Boats and Sail Boats. The Power Boat Edition covers power boats of all sizes and methods of power from outboards, I/O's and diesel. In addition to general items there is lots of room to add information specific to your vessel.

Boat manufacturers, marine supply companies, hosting cities, and travel destinations, can have their own custom book produced with their own cover as well as inside back pages available for revenue generation from advertising sales.
NauticalCheck technical staff is headed by Jim McCrae, a retired US Naval Officer with over 40 years of aviation and boating experience. The company is located in Atlanta, GA and can be reached at 800-285-5205 or Email at: support@NauticalCheck.com