New Chemical Handling Service from Ferguson Group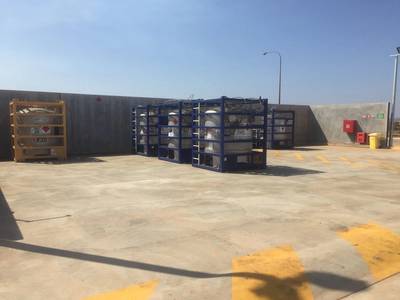 Tank, Fluid Solutions and Bunded Storage for Dangerous Goods and Chemicals Introduced at Gap Ridge, Karratha.
Ferguson Group Australia, global specialist in offshore DNV 2.7-1/EN12079 containers, tanks, refrigerated modules, engineering workspace and accommodation modules, has introduced a range of chemical services from its new base in Gap Ridge, Karratha WA.
The purpose built base in Gap Ridge, Karratha was designed with integral chemical storage and handling facilities. Dedicated bunded storage for dangerous goods/chemicals (Class 3, 6.1, 8, 9 and C1 combustible products) is available, with a combined total storage capability of 500,000lts
Gap Ridge is within easy reach of ports, reducing the time taken to transport
chemicals offshore
. Market feedback highlighted that a large proportion of customers transported chemicals in offshore tanks from Perth WA on a three day trip to the
port of Dampier
. By offering bulk chemical handling and storage facilities at their new Gap Ridge base
Ferguson Group Australia
can now provide an improved service.
Bulk storage using self-bunded tanks can be set up on-site for customers, so that products can be called-off in offshore tanks and IBC containers at short notice and delivered to the point of shipping. Ferguson Group Australia staff complete with all dangerous goods shipping documentation.
Sonnie Groombridge, Australian Business Manager - Ferguson Group Australia commented: "We saw a demand in the market for bulk chemical storage and handling solutions to clients operating out of North West Australia. Our new base can provide storage of both hazardous and non-hazardous products that transit through the area to offshore facilities. This includes bulk storage of products on our site as well as associated chemical handling and filling of tanks. If customers require licensed bunded storage facilities in-between load outs, this is part of the new Tank and Fluid Solution service available at Gap Ridge.
Groombridge continued: "If dangerous goods are to be stored and the current license does not cover it, we can now follow up with the Department of Mines and Petroleum to seek an amendment to the current license volumes."
Ferguson Group Australia has expanded its tank cleaning service to include both helifuel tanks and chemical tanks, using a purpose built helifuel recirculation and tank-cleaning unit. This specialized work is undertaken by fully trained team, and in accordance with the latest procedures. Tank cleaning services are also offered at its bases in Broome, Darwin and Perth.
The new facilities have generated interest from the offshore sector with several major operators and service companies already making use of the new services now available at the Ferguson Group Gap Ridge base.