Green Joins Chesapeake Bay Maritime Museum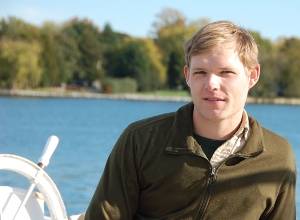 Joe Green of Portland, Ore. has joined the Chesapeake Bay Maritime Museum (CBMM) in St. Michaels, Md. as a shipwright apprentice.

With an associate's degree in wooden boat building from the Northwest School of Wooden Boat Building in Port Hadlock, Washington, Green will primarily work on the restoration of the Museum's bugeye, the Edna E. Lockwood. During his one-year apprenticeship, Joe is living on Tilghman Island.

Through educational, cultural and interactive exhibits and activities, CBMM celebrates the connections between the Bay and its people while inspiring an understanding of and appreciation for the rich maritime heritage of the Chesapeake Bay and its tidal reaches. The Museum's campus includes ten exhibit buildings on 18 waterfront acres along the St. Michaels Harbor.