Ancasta Expands Into Chichester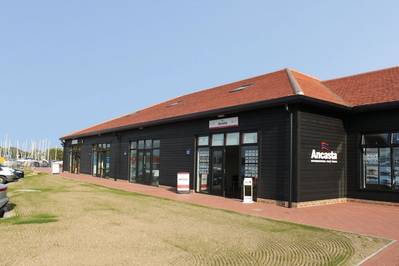 Ancasta's new flagship Chichester office officially opens on Saturday 26th October 2013. The new office, located in Premier Marinas' brand new facility at Chichester Marina, reflects the value Ancasta places upon the area.

Chichester, a key regional centre for the Ancasta group, has been chosen as one of Ancasta's flagship offices. This means that, as well as brokerage, the office will be active in new boat sales including Beneteau, Prestige, Lagoon, CNB, McConaghy and Fairlie, in addition to selling insurance, finance and charter products.

The opening of the new office reflects Ancasta's renewed strategy, implemented at the start of this year, of focusing on offices in key regional locations. The strategy includes placing offices in more accessible locations, opening seven days a week and housing more brokers trained to offer the whole of the Ancasta product range. With the opening of this fantastic new flagship office, the group is operating a network of strong, well-positioned "one stop shop" offices.


At the helm of the Chichester office will be Geraint Skuse, who is no stranger to many of Ancasta's customers. With over 20 years experience in the marine industry, Geraint joined Ancasta in 2007 and has spent most of those years since working in the Group's Port Solent office. Specialising in modern British powerboats, Geraint is an extremely valued member of the Prestige New Boat Sales team.


Geraint and his team are looking forward to welcoming clients to the new office:

Ancasta Chichester
Chichester Marina – Unit D2
Birdham, Chichester
West Sussex, PO20 7EJ
T: 01243 885 380
F: 01243 885 310
E: chichester@ancasta.com