China's First Cruise Ship to Sail Soon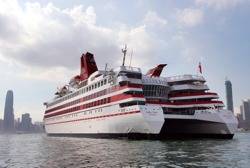 'China Star', first ever cruise ship for China, sets sail soon
An unusual twin-hull cruise ship will set sail from Hong Kong on March 8, after being acquired by a Chinese mainland tycoon, his first step towards building a Chinese cruise ship fleet.
Huang Weijan, an entrepreneur from Wenzhou in East China's Zhejiang province, bought the 20,295 ton ship, launched in 1992 from the Finnyards Shipyard in Rauma, Finland for the Diamond Cruise Line. The vessel was to subsequently change hands a few times, before the present owner bought it for $45M to rename China Star.
Huang plans to buy four or five more ships for destinations in Korea, Russia and elsewhere.