Solid Bulk Cargos Safety Guide Now in Chinese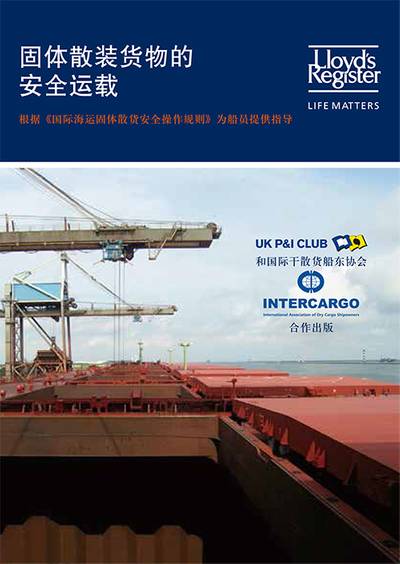 International Maritime Solid Bulk Cargos (IMSBC) Code pocket checklist will be available at Marintec 2013 next week.

Lloyd's Register, UK P&I Club, and Intercargo produced a pocket guide and checklist earlier this year for ships' officers and agents who arrange cargos for loading. When bulk cargos shift, liquefy, catch fire or explode due to poor loading procedures, the consequences can be critical – ships could capsize, lose stability or sustain severe structural damage. Now the pocket checklist, which follows the successful, robust formula designed to help all involved in ship operations, is available in Chinese.

The guide, titled Carrying solid bulk cargos safely: Guidance for crews on the IMSBC Code, outlines the precautions that need to be taken before accepting solid bulk cargos for shipment. It sets out procedures for safe loading and carriage and details the primary hazards associated with different types of cargos. The guide includes a quick reference checklist and flowchart summarizing the steps to be followed. It comes in a laminated flipover format for on-the-spot use.

The guide reflects the compliance requirements of the IMSBC Code, which became mandatory on January 1, 2011 under the SOLAS Convention. It addresses the Code's three cargo groups: Group A – cargos which may liquefy; Group B – cargos which possess a chemical hazards and Group C – all other types of cargo. Appendices cover IMO regulations and guidance relating to the transport of solid bulk cargos and provide an overview of the IMSBC Code.

Sam James, Lloyd's Register's Global Head of Fire and Safety, said the guide would be extremely useful to crew members as an aide memoir. "This guide heightens awareness of seafarers, managers, charterers and shippers to the hazards associated with carrying solid bulk cargos. Everyone involved has a responsibility to ensure cargo is accurately declared and the hazards mitigated. Now with our Chinese language version available we hope to reach an even wider audience of shipping and trading professionals. Clearly China as the biggest player in the bulk trades is a vital user group."

Intercargo Secretary General, Rob Lomas, said, "Intercargo is pleased to have contributed to this useful publication which highlights the key responsibilities of industry stakeholders and the importance of the IMSBC Code. The guide underlines the importance of proper cargo declarations and will be a useful tool for the wider maritime community, including shippers and charterers and those who do not regularly carry dry cargos in bulk. Getting the checklist on board ships will help expand seafarers' knowledge, which will be of great value."

UK P&I Club Loss Prevention Director, Karl Lumbers, emphasizes that the IMSBC Code has significantly increased the obligations on both suppliers and recipients of solid cargos. "The main purpose of the Guide is to provide on-the-spot references to help in practical situations. It outlines the precautions to be taken before accepting cargos for shipment and the procedures to be followed for safe loading and carriage, and details the primary hazards associated with different solid bulk cargos. In giving all parties a better appreciation of the IMSBC Code, the Guide provides greater confidence in managing the risks of carrying solid bulk cargos and achieving compliance with SOLAS."

Lloyd's Register and the UK P&I Club have produced a number of checklists to aid safety and regulation compliance. Subjects have included Port State Control detention, marine fire safety and the Maritime Labor Convention.