Navy Research Vessel Neil Armstrong Christened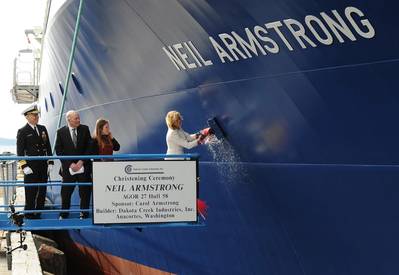 Naval Architecture and Marine Engineering company Guido Perla & Associates, Inc. (GPA) announced that the christening ceremony for the Oceanographic Research Vessel AGOR 27, named in honor of the famed Neil Armstrong, was held at Dakota Creek Industries (DCI) in Anacortes, Wash., on March 29, 2014. Kali Armstrong, granddaughter of the late astronaut and the Maid of Honor, sang the National Anthem and Carol Knight Armstrong, Neil Armstrong's wife, served as the ship's sponsor, performing the honor of breaking the traditional bottle of champagne across the ship's bow. Coordinated with the breaking of the bottle, a formation of WWII AT6 navy trainers flew over the site, providing a glorious radial engine background sound to the ritual. "Now the R/V Neil Armstrong will provide a continuum of exploration for the next 50 years," said Mrs. Armstrong during the ceremony.

The beginning of the vessel's life was officially marked with hundreds of guests on-site, including representatives of the Naval Sea Systems Command (NAVSEA), Woods Hole Oceanographic Institution (WHOI), University-National Oceanographic Laboratory System (UNOLS), Office of Naval Research (ONR), DCI, GPA and various major equipment suppliers. Notable guests on the VIP list included VADM Devany (NOAA Deputy Under Secretary for Operations), RADM Lewis (PEO Ships), RADM White (Oceanographer of the Navy), Ms. Allison Stiller (Deputy Assistant Secretary of the Navy for Ship Programs), Honorable Charles Boldin (Ret Major General and current Administrator of NASA), Mr. Mike Kosar (Deputy Program Manager, NAVSEA PMS 325), CAPT Crowe (Supervisor of Shipbuilding, Bath), RADM Klunder (Chief of Naval Research) and Dr. Susan Avery (President, WHOI).

It was a momentous day for all involved as it honored the memory of an extraordinary individual whose life achievements reminded all attendees to embrace challenges and to never stop embarking on journeys of discovery, perfectly epitomizing the future missions of the R/V Neil Armstrong. "I can't think of a better name to go on the side of a ship designed for exploration and discovery," said RADM Klunder. "R/V Neil Armstrong will play a pivotal role in teaching the Navy about the ocean so we can more effectively plan our operations around the world."

"In September 2012, the Secretary of the Navy announced that AGOR 27 was to be named after Neil Armstrong. To have this project be associated with such a distinguished and important individual was an incredible moment for the DCI/GPA team and all the associated companies who are involved. To us, Neil Armstrong represents one of the greatest examples of American tradition and character. Although many of his most famous accomplishments were before my lifetime, many here are affected personally by his achievements. But even for me, born a few years after his moon landing, it was impossible not to be aware of the importance of Neil Armstrong and what he has done for this country. DCI and GPA are providing a ship that will carry on the tradition and legacy of Neil Armstrong. We are honored beyond measure to be a part of this. We are confident this ship and the crews that operate this ship will meet the expectation and we look forward to hearing of its exploits in years to come," said Chris Chuhran, GPA's Vice President and Project Manager of the Ocean Class AGOR Program.

The 238 ft, state of the art oceanographic research vessel provides unprecedented opportunities for larger, interdisciplinary science teams of up to 25 members, utilizing highly developed research equipment and will replace aging Intermediate Class ships. Both the R/V Neil Armstrong and sister vessel AGOR 28 R/V Sally Ride, also well under way at DCI, have the capability of carrying sufficient supplies and support systems to stay at sea for up to 40 days, covering up to 10,000 nautical miles and withstanding high sea and wind conditions. Some advanced features include acoustic navigation and tracking systems that operate at various depths, a specially designed hull diverting bubbles from the sonar area, a state of the art suite of over the side handling systems with enhance remote operation capability and dual controllable propellers with variable speed motors for increased efficiency.

"Ship's are not a mere mode of transportation for many people in the industry. People dedicate their lives to ships, from the design through construction but especially the seafarers who spend a significant amount of time on these vessels. With those crew members and scientists in mind, we are confident that we have created an exceptional ship. The R/V Neil Armstrong carries with it the expertise, commitment and high regard for quality of dedicated men and women involved in the development, design and construction of this vessel. Just in August 2012, the keel was laid and since then, these same people have worked tirelessly to construct it. The GPA team is honored to play such a significant role in this project, Never in my wildest dreams I ever thought in 1969 as a young college student in my native country of Colombia, that 45 years later, a design that I have developed, will carry the name of that person that impressed me so much when I watched him on TV setting a foot on the moon, I am very honored of this happening" said Guido Perla, Chairman of GPA.

The R/V Neil Armstrong continues to undergo outfitting and testing at DCI. Upon delivery in late 2014, the vessel will be operated by WHOI, supporting scientists with ongoing research worldwide, including in the Atlantic, Western Pacific and Indian Ocean regions in a wide variety of missions. AGOR 28 R/V Sally Ride, to be managed by Scripps Institute of Oceanography under charter party agreements with ONR, will soon follow after with an expected delivery in early 2015.