New Container Ship Christened in Shanghai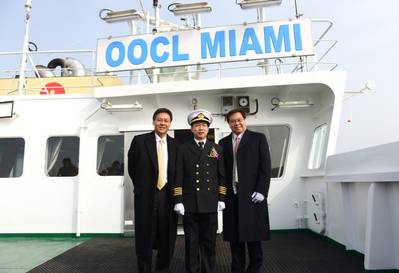 OOCL celebrates the christening of 8,888 TEU container ship 'OOCL Miami' at the Changxing Island shipyard in Shanghai.
OOCL Miami is the third of the eight 8,888 TEU vessels that OOCL commissioned Hudong-Zhonghua to build and the technological improvements have enhanced the vessel's ability to be more fuel efficient. When sailing at optimal performance, this ship can not only lower fuel consumption but also reduce emissions.

The new vessel is 335 meters long, 42.8 meters wide with deadweight of approximately 101,566 mt.. She will be deployed on OOCL's Trans-Pacific network's 'Super Shuttle Express (SSX) service'. Her 42-day port rotation begins in Yantian, calling Shekou, Hong Kong, Kaohsiung, Long Beach, and then completing the loop sailing back to Asia with calls at Kaohsiung, Xiamen, Hong Kong and Yantian.

"This magnificent vessel, the OOCL Miami, is another shining example of Hudong-Zhonghua's skills and craftsmanship in building top quality ships," said Mr. Andy Tung, Chief Executive Officer of OOCL at the christening ceremony. "The shipyard has made a name for itself in the international shipbuilding community by taking great leaps in developing home-grown technologies that make Chinese industries proud." He added: "In today's challenging container shipping environment, many carriers are constantly looking for ways to improve vessel efficiencies and Hudong-Zhonghua has been instrumental in delivering yet another vessel to meet OOCL's objectives."

In the picture: (L-R) Mr. Andy Tung, CEO of OOCL; Captain of OOCL Miami; Mr. Samuel Tsien, Sponsor of OOCL Miami.