Second Hi-speed Vessel for USNS Christened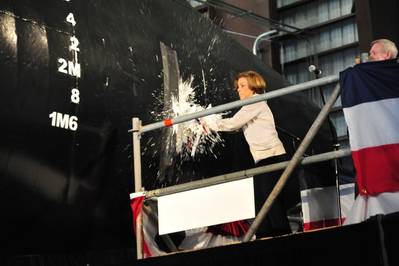 Austal christening of 'USNS Choctaw County' (JHSV 2) at its Mobile, Alabama shipyard, the second of a nine-ship US$1.6-billion contract with US Navy.

The ship was named Choctaw County to honor the contributions of the men and women of rural America. Three counties in America, located in Mississippi, Alabama, and Oklahoma, share the name.

The ceremony was held in Austal's final assembly bay under the ship with over 600 guests in attendance. Secretary of the Navy Ray Mabus was the principal speaker at the event.

Twenty-nine women from the 1966 graduating class of Ackerman High School in Ackerman, Miss., served as the ship's sponsors, with 18 participating in the ceremony. With the support of her classmates, Theresa Gilliam Pitts, a retired teacher, broke the traditional bottle of champagne across the bow to formally christen the ship.

The 338-foot-long aluminum catamarans are designed to be fast, flexible and maneuverable even in shallow waters, making them ideal for transporting troops and equipment quickly within a theater of operations. The ship has the ability to support a variety of operations, supporting the warfighter through traditional logistics missions, humanitarian support projects, disaster response or by supporting maritime law enforcement activities.

The JHSVs are capable of transporting 600 short tons of military troops, vehicles, supplies and equipment 1,200 nautical miles at an average speed of 35 knots and can operate in shallow-draft, austere ports and waterways, providing U.S. forces added mobility and flexibility. The JHSVs' aviation flight decks can support day and night flight operations. Each JHSV also has sleeping accommodations for up to 146 personnel and airline-style seating for up to 312.