U.S. Warship LPD 25 Christened USS 'Somerset'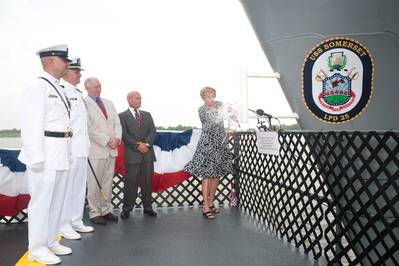 Ingalls Shipbuilding the scene of christening of LPD 25 'Somerset' in honor of the 9/11 heroes of Flight 93
Nearly 1,800 guests attended the christening today of Huntington Ingalls Industries' ninth amphibious transport dock, Somerset (LPD 25), at the company's Avondale shipyard. LPD 25 is named to honor the courage of the passengers and crew members of United Airlines Flight 93, which crashed on Sept. 11, 2001, near Shanksville in Somerset County, Pa.
Mrs. Mary Jo Myers, wife of Gen. Richard Myers, U.S. Air Force (Ret.), former Chairman of the Joint Chiefs of Staff, smashed a ceremonial bottleacross LPD 25's bow at the culmination of the ceremony, officially christening LPD 25 as Somerset.
"We thank our nation for honoring and remembering those 40 aboard Flight 93 with this extraordinary tribute, the Somerset," said Patrick White, president of Families of Flight 93 and principal speaker at the event. White's cousin, Louis J. Nacke II, died on board the flight. "These passengers prevented additional tragedy on Sept. 11 through their selfless actions. The Somerset and her steadfast crew — now and in the future — are both a living tribute and vigilant reminder of sacrifice made to protect the lives of unknown others."
"Built for survivability and flexibility, LPD 25 is being crafted by the hearts, heads and hands of some of the best shipbuilders in the world and will be manned by our nation's finest," said HII President and CEO Mike Petters.
The LPD 17-class ships are 684 feet long and 105 feet wide and displace approximately 25,000 tons. Their principal mission is to deploy the combat and support elements of Marine Expeditionary Units and Brigades.