Inland Waterway LNG Tanker Christened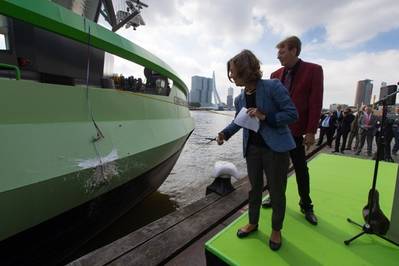 The 'LNG Greenrhine'' has been christened by Mrs. Edwige Belliard, president of Central Commission for the Navigation of the Rhine (CCNR).
The LNG Greenrhine is an electrically powered ship with diesel generators fuelled by LNG (Liquid Natural Gas).
The use of LNG, compared to the traditional diesel oil, reduces emissions of CO2 and nitrogen oxides (NOx) by more than 25% and 80% respectively. Moreover, no sulphur dioxide (SO2) and particles are released. Due to the configuration of four engines, the LNG GREENRHINE offers a load sharing operation which results in low fuel consumption, increased safety and redundancy.
In April 2012 the first LNG powered Greenstream Tanker was inaugurated by Shell Netherlands whose experiences in the operation of the vessel have so far been promising. Shell also charters the sister LNG powered barge, built at Peters Shipyards and managed by Interstream Barging.


Since 1896 with its roots in Dedemsvaart, Peters Shipyards started as a building and repairs shipyard for inland navigation. Following steady growth, the shipyard moved to its present site in Kampen in the nineteen-sixties. More than 10 years ago, based on its experience with inland navigation, the company started producing short sea shipping vessels. Nowadays, Peters Shipyards focuses completely on building new ships.

LNG Greenrhine: Photo credit Peters Shipyards