HII Yard Christening of LHA 6 'America'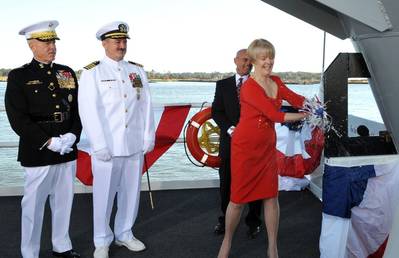 Lynne Pace, wife of retired U.S. Marine Corps Gen. Peter Pace, former chairman of the Joint Chiefs of Staff, served as the ship's sponsor.

The multi-purpose amphibious assault ship America (LHA 6) built by Huntington Ingalls Industries' Ingalls Shipbuilding division. is the first in a new class, and the fourth U.S. Navy vessel to be named America, extending a legacy dating back to 1861.

Ingalls has built 13 amphibious assault ships: five in the Tarawa (LHA 1) class and eight in the Wasp (LHD 1) class. HII received a $2.38 billion contract in May to build Tripoli (LHA 7), the next ship in the America class.

"No other shipyard in the United States can boast the amount of experience that Ingalls has in the production of these critically important ships," said Ingalls Shipbuilding President Irwin F. Edenzon.

America-class ships are 844 feet long, 106 feet wide and will displace 44,971 long tons. The gas turbine propulsion system will drive the ships in excess of 20 knots. They will accommodate 1,059 crew (65 officers) and 1,687 troops. The America-class will be capable of carrying a Marine Expeditionary Unit, including Marine helicopters, MV‐22 Osprey tiltrotor aircraft and F‐35B Joint Strike Fighter (JSF) aircraft.

The newest class has an increased aviation capacity to include an enlarged hangar deck, realignment and expansion of the aviation maintenance facilities, a significant increase in available stowage for parts and support equipment, and increased aviation fuel capacity.

In the picture: Ship's Sponsor Lynne Pace smashes a bottle of sparkling wine across the bow of the multi-purpose amphibious assault ship America (LHA 6). Also pictured (left to right) are: Gen. James F. Amos, commandant of the U.S. Marine Corps; Capt. Robert A. Hall Jr., America's prospective commanding officer; and Ingalls Shipbuilding President Irwin F. Edenzon.