Hamburg Süd Christens Third San Class Ship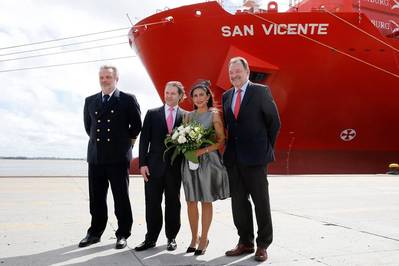 Hamburg Süd christened its third container vessel in the new San class yesterday, officially naming newbuild San Vicente at the Cuenca del Plata terminal in Montevideo.
The new ship class in the Hamburg Süd fleet has a nominal container slot capacity of around 9,000 TEU and with 1,370 reefer slots for refrigerated containers a correspondingly high reefer capacity.
San Vicente's sponsor is Elisa Maier, wife of Roland Maier, owner of the Swiss Commodity Supplies AG, with which Hamburg Süd has been working for many years. The naming ceremony was also attended by Frank Smet, member of the Hamburg Süd Executive Board.
The San Vicente was built at the Korean yard Hyundai Heavy Industries in Ulsan. Following her delivery in early November of last year, she was phased into Hamburg Süd's liner service between Asia,
South Africa
and South America East Coast. This service is also operated by her sister ships San Clemente and San Christobal.
Hamburg Süd said the Uruguay route plays an important role for the company. Five liner services, thereof the Asia – South Africa – South America East Coast service with four slings, call at Montevideo. More than 400 times a year, ships operated by Hamburg Süd and its Brazilian subsidiary Aliança dock at the port.
Hamburg Süd is the leading container carrier at the port of Montevideo. With a total handling volume of around 776,000 TEU at the port last year, nearly every tenth box loaded was a Hamburg Süd container.
The San Vicente is the second
ship Hamburg S
üd has christened in Montevideo. Five years ago, the Rio Madeira (5,900 TEU) was christened at the
Uruguay port
.
Technical data of the San Vicente:
Capacity: 111,700 tdw
Container slot capacity: 9,034 TEU
Reefer slots: 1,370
Length overall: 300 m
Length between perpendiculars: 287 m
Width: 48.2 m
Draught max.: 14.5 m
Speed: 22 kn
Main engine output: 36,440 kW