Port of Hueneme Christens Mobile Harbor Crane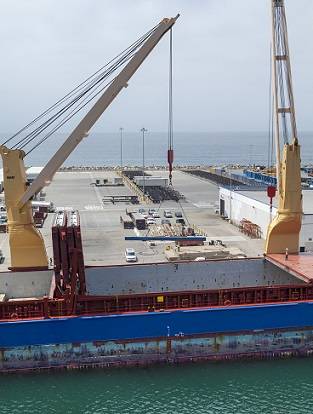 Port leadership joined with Ports America to formally christen the stevedoring company's newest heavy-lift addition to the Port of Hueneme, a Liebherr LHM 420 Litronic Mobile Harbor Crane. The new crane is the second Ports America crane to be put into action at the port.

"This 376 ton mobile harbor crane greatly increases shore side productivity in tandem with our existing crane and increases our flexibility to work more than one ship at a time," said Ports America's site manager Kevin Beirne.

The new crane joins an existing Liebherr LHM 320 Mobile Harbor Crane known on the waterfront as Big Blue. Both cranes were built by the Liebherr Nenzing Crane Company in Austria. The new LHM 420 is the most modern crane of its kind in the world and the only one on the West Coast of North America, the company said."With a slightly larger footprint than Big Blue the New LHM 420 has a 124 ton capacity," said Port Commission President Jason Hodge. "This crane will greatly enhance our labor's productivity and allow for quicker ship turnarounds. This enhancement further allows us to market the port for additional project cargos."

Due to its size, (fully assembled the LHM 420 stands 104 feet high with a maximum radius of 161 feet), the crane was delivered to the port in pieces via a specialized heavy lift vessel, and assembled by the ILWU mechanics team after arrival. Local longshore workers with the International Longshore and Warehouse Union (ILWU) underwent extensive training in operating this sophisticated new machine.

The addition of the new LHM 420 ensures rapid load outs and discharges of all oceangoing project cargos. The skilled stevedores, labor force and flexible facilities found at the Port combine to create some of the highest cargo velocity on the U.S. West Coast. The contribution of this heavy-lift mobile harbor crane to the port is critical in serving existing customers such as Chiquita Fresh North America and Del Monte Fresh Produce, two of the Port's top priority customers, as well as providing a flexible heavy lift capacity for attracting more project and other heavy cargoes.