NASSCO Christens Jones Act ECO Tanker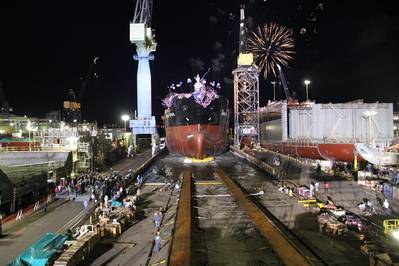 U.S. shipbuilder General Dynamics NASSCO launched and christened Garden State, another ECO Class tanker due to join the Jones Act fleet.
Launched and christened on Saturday, May 7, the new ship, will join the ranks as one of the most fuel-efficient and environmentally friendly product tankers in the world, the builder said.
Garden State is the third of a five-tanker contract between NASSCO and American Petroleum Tankers, which calls for the design and construction of five 50,000 deadweight ton, LNG-conversion-ready product carriers with a 330,000 barrel cargo capacity. The 610-foot-long tankers are equipped with a new "ECO" design, enabling improvement in fuel efficiency and further shaping the future of American maritime shipping.
"The launch of the Garden State symbolizes and celebrates the culmination of thousands of hours of hard labor put forth by the men and women of General Dynamics NASSCO,"
said Fred Harris
, president of General Dynamics NASSCO and Bath Iron Works. "NASSCO is proud to be building yet another quality product tanker for longtime
partners American Petroleum Tankers
and Kinder Morgan."
The Garden State, along with others in the ECO Class, are the first in the Jones Act fleet to obtain a PMA+ Notation, representing compliance with one of the highest standards of human factors in engineering design. The PMA+ Notation is created to facilitate safe access to vessel structure and spaces in ways that are rooted in the fundamentals of human ergonomics. 
"We are excited to see our third ECO Class tanker, the Garden State, launched and christened," said Rob Kurz, vice president of Kinder Morgan Terminals and president of American Petroleum Tankers, a Kinder Morgan, Inc. subsidiary. "This marks another milestone in the construction process of our five ship program with NASSCO. We thank everyone at NASSCO for their continued support and look forward to adding this impressive vessel to the APT – Kinder Morgan fleet this coming August."
The ships were designed by DSEC, a subsidiary of Daewoo Shipbuilding & Marine Engineering (DSME) of Busan, South Korea. The design incorporates improved fuel efficiency concepts through several features, including a G-series MAN ME slow-speed main engine and an optimized hull form. The tankers will also have dual-fuel-capable auxiliary engines and the ability to accommodate future installation of an LNG fuel-gas system.
As part of Saturday's ceremony, ship sponsor Yvette Romasko christened the ship with the traditional break of a champagne bottle on the ship's hull. The Honorable Greg Cox, from the San Diego County Board of Supervisors, served as the keynote speaker. Previously, Supervisor Cox laid the keel for the ship.
"When people ask about San Diego's working waterfront, all we have to do is point them to NASSCO," said Cox, whose first supervisorial district includes the shipyard. "This ship launch is another example of the growing might and reach of San Diego's Blue Economy of maritime related industries."