Yo Ho Ho! Christmas Trees Loaded Aboard Cutter 'Mackinaw'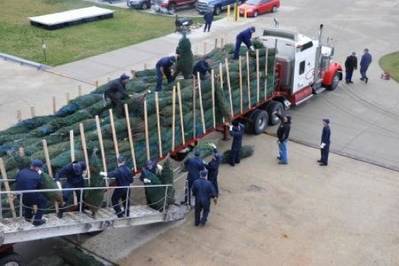 Coast Guard Cutter Mackinaw has taken on board more than 1,300 Christmas trees in preparation for the annual transit to Chicago where the trees will be given to nonprofit organizations, pre-determined by the Chicago maritime community, and then to needy families.
The Mackinaw, which has served as the Christmas Ship since 2000, reenacting a tradition dating back to the late 1890s, makes the annual trip in conjunction with annual fall buoy retrieval operations.

The journey and ceremony honors the traditions of the Rouse Simmons, the original Christmas Ship, which sank between Kewaunee and Two Rivers, Wis. on Nov. 23, 1912 in a storm during its annual transit from northern Wisconsin to Chicago.

During the transit to Chicago, the crew of the Mackinaw will conduct a wreath laying ceremony near the wreck of the Rouse Simmons to honor the ship and its crew.

"The crew and I are looking forward in participating in this year's event. We feel it's an extremely worthwhile cause." commented Cmdr. Michael Davanzo, the ship's commanding officer.