New Circuit Load Tester for Marina Docks by Extech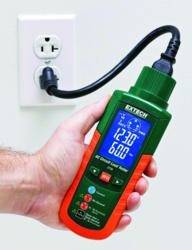 Marina & dock electrical grounding Inspections made easier with Extech's new CT70 AC Circuit Load Tester.

In a marina environment, electrical workers are faced with a worst-case scenario of rapidly growing AC electrical demands supported by an infrastructure that has largely been cobbled together to accommodate this relatively new demand for all the comforts of home. Extech's new CT70 is the ideal tool to diagnose such problems.

Some of the most significant problems are related to stray electrical current or "current leakage" that leaves the pathways of wiring into the water or nearby metallic components. For example, stray DC current can turbocharge corrosion. Small amounts of AC current, whether from a shore power source or from vessels, can enter the water and pose life-threatening shock hazards. Or fire risks that can quickly send a cherished craft up in flames.

Testing circuits for ground faults with a tool like the Extech CT70 AC Circuit Outlet Tester can expedite inspections and make it easy for marinas to have a best practice policy in place. The Extech quickly inspects and detects circuit and wiring problems such as poor ground impedance, false grounds, missing ground fault protection, low voltage availability under load, and high ground-to-neutral voltage. In addition to providing explicit messages about the condition of a circuit, the color-coded display changes from blue to flashing red, providing a compelling visual alert when a problem is detected.

The CT70 tests GFCI and equipment protection device (EPD) circuits. In a marina setting, the latter category includes newer ELCI (Electrical Leakage Circuit Interruptor) devices that trip with 30mA of current leakage.