'Best Grab' Award for Clamshell Bucket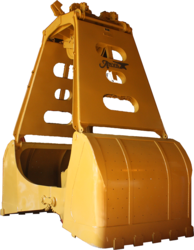 US-based Anvil Attachments, makers of industrial buckets & grapples, awarded a 2012 International Bulk Journal Award for 'Best Grab'.

Anvil Attachments , a Slaughter, Louisiana manufacturer of buckets and grapples, was nominated and selected to the final 5 in the "Best Grab" category of the 2012 International Bulk Journal (IBJ) Awards . The finalists were narrowed down by an independent judging panel from more than 100 individual category entries, 28 different countries, and all five continents. the companies that made the shortlist were, Credeblug, Spain, Guven Machine and Grab, Turkey, SMAG (Peiner) , Germany and Verstegen, Netherlands.

The winner was chosen according to the following criteria: "The judges will select a winner who consistently meets customer requirements for operationally efficient, cost-effective grabs. Aware that grabs should ideally be adapted to each bulk commodity, judges will look for the use of quality material in manufacture and innovative design in minimizing environmental damage."

Anvil's award winning bucket was their model 4RD coke bucket. Anvil having successfully taken on the challenge to look at its designs and manufacturing processes to provide a lighter, more reliable and lower cost to operate clamshell bucket.