ClassNK's Super Eco Ship for Coastal Trade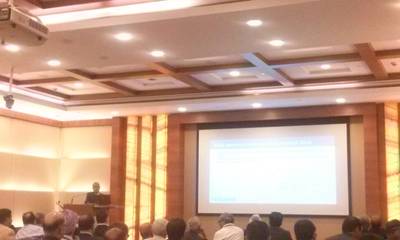 As the Industry waits for the Ministry of Shipping, Government of India to roll out the much hyped policy to boost Coastal Shipping and Inland Waterways transport, ClassNK & Indian Register of Shipping (IRS) took the first step to conduct a workshop on "Super Eco Ship For India Coastal Trade" as a strategy to be first to cash in on the opportunities when the policy gets implemented.

Held in Mumbai last week at the IRS auditorium, both the classes presented to the gathering of ship owners, coastal operators, barge owners, representatives of manning companies, shippers and other allied trade the large number of options and opportunities that the trade and industry could avail of in order to get the full advantage of coastal shipping and inland waterway transport. Some presentations by ClassNk were repeated the following day at the ClassNK organized program especially for the various representatives of the trade and industry.

Experts from the National Ship Research Institute of Japan were on hand to provide an insight as to how coastal shipping has grown worldwide by taking advantage of the hi-tech vessels that were operating. They promised that this technology could be satisfactorily made available to India.

A very interesting exposé was by Toshiyuki Kano on the "Super-Eco Ship (SES) Concept for Coastal Applications". Two vessels were already in operation in Japanese waters he said. The first being a cement carrier and the other being a bulk carrier. The advantages were numerous as SES vessels complied with IMO's Kyoto Protocol, ensures high engine performance and state-of-the-art maneuverability and others.

The construction cost for such vessels was no doubt slightly on the higher side but if ship yards undertook their construction on a regular basis the cost would come down. Further, these vessels being well suited for Indian conditions, could spell prosperity for the Indian coastal trade. Further the application of advanced technology in order to reduce environment impact and obtain economic benefits offered by Super Eco-ship could greatly help jump start Indian coastal shipping and inland waterways transport operations.

On the R& D front Japan was already seeing the deployment of vessels with Contra-Rotating podded propulsor, Highly efficient marine gas turbine, ship design method merging CAD & CFD and labor power saving system. Super Eco Ships were known for their power saving ability and excellent maneuverability - They can practically rotate round in one place which can prove to be a boon for operation in constricted areas as exist in inland waterways. Another vessel recommended was the LNG gas propelled vessels many of which are in operation in EU countries and could also prove very useful for India.

Dr S. C. Misra Ex Director of Indian Maritime University and former professor of Indian Institute of Technology highlighted different researches that have been carried out for the purpose of identifying the type of vessels best suited for Indian coastal trade. He gave details of the method used and how the study made its conclusion in arriving at the suitability of the type of feeder container vessel, multipurpose bulk cargo ships and tankers for lighterage operations. He was the view that the design of the vessels could bring down the ship building cost.

Topping up the program Amit Kumar of ClassNK gave an in-depth presentation on the current trends with regards LNG Fuelled Ships and the role played by ClassNK and their activities. He discussed the IMO's role and the IGF Code and highlighted the basic technology employed with regards LNG Fuelled ships. He explained comprehensive solutions in relations to infrastructure development and the national support necessary to take matters further. A salient feature of ClassNK is to continuously strive to contribute to promote LNG fuelled ships based on sufficient experience for LNGC technology and knowledge through relevant R&D projects.

Once the new government policy is announced and comes into force ClassNK along with IRS are prepared to assist the trade and industry to put their best foot forward. How the Ministry's policies take shape is being awaited.