Idea for Patent Cluster Sheave First Drawn on a Napkin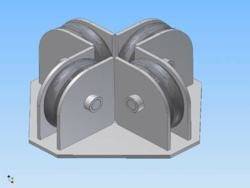 Anvil Attachments release their patented cluster sheaves for use on the entire Cable Grab Line.
Jon Craft, president of Anvil, was having dinner with a large group of Kone Crane representatives in Houston. They were discussing issues with clamshell buckets, and the highest complaints have always been cracking and cable wear. Together, they all talked and drew different ideas on napkins; Jon's idea was the cluster sheaves which Anvil manufactures today.
Anvil has now adopted their patented cluster sheave design across its entire line of cable buckets and grapples. Anvil received its Patent for their Cluster Sheave design in 2008; its early use was primarily on their 4 rope direct reeve clamshell buckets. The results of this design have been tremendous by increasing cable life up to 3 times.

Anvil Attachments continues to be on the forefront of bucket and grapple innovation. Anvil has learned that quality bucket design does not only come from their use of cutting-edge technology, 3D design, FEA analysis and LEAN manufacturing. The primary source of quality design comes from the customers themselves, the men who are in the field all day working with their equipment. Anvil is continually questioning their customers, asking them what they would like to see in a bucket or grapple, what don't they like and how can we improve.

One thing that customers repeatedly stated as an issue was having to stop in the middle of a job to restring cable. This is a time-consuming and costly process. Not only is the cable expensive, but there is also the cost of downtime while unhooking the attachment, restringing, then re-hooking. This often occurs in the middle of a job, where time is money.

The patent for Anvil's cluster sheave was approved in 2008 and, over the past five years, the results have been better than first anticipated. This design has drastically increased cable life for Anvil's customers, doubling and tripling it in most instances.