CMA CGM Celebrates 40 Years of Entrepreneurialship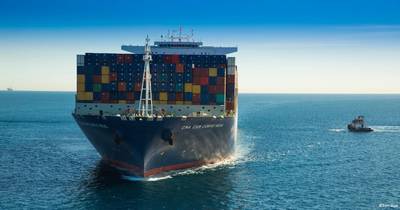 40 years ago, on September 13th, 1978, Jacques R. Saadé launched the first maritime line between Marseilles and Beirut, with only one ship and 4 employees. The day marked the beginning of an extraordinary humane and entrepreneurial adventure, said a press release.

According to the statement, 40 years later, CMA CGM has become a recognized world leader, with 34,000 employees and a presence in more than 160 countries.

History: It is amid the Lebanese war that Jacques R. Saadé decided to settle in Marseilles to protect his family. As a visionary man, he anticipated the evolutions of international trade and was convinced of the crucial role containerization was about to play. He thus launched a first maritime line and created the Compagnie Maritime d'Affrètement (CMA).

This will be followed by an exceptional growth. As soon as 1983, the VILLE DE SAHARA became the first CMA vessel to cross the Suez Canal, paving the way towards the Orient. This was followed in 1986 by the launch of a line linking Northern Europe to the Far-East. Convinced that China would become the world's factory, Jacques R. Saadé created his first Shanghai-based CMA maritime agency in 1992.

Combining a development strategy with targeted acquisitions such as CGM in 1996, ANL in 1998, Delmas in 2005, APL in 2016, and more recently Sofrana and Mercosul in 2017, the Group has been expanding its presence on key markets throughout the years.

Very attached to the city of Marseilles, where CMA CGM was created, Jacques R. Saadé launched the building of the CMA CGM Tower in 2006, the Group's headquarters, which has become a landmark for the city.

"Today headed by Rodolphe Saadé, the CMA CGM Group has become a global reference in the maritime transportation industry," said the company.

CMA CGM is also a responsible Group committed to the protection of the environment. For more than 15 years now, the Group has initiated an ambitious policy in this field which already allowed for a reduction of 50% in carbon emissions by transported container per kilometer, between 2005 and 2015. The Group has set the goal of an additional 30% reduction in CO2 emissions for 2025.

As a Group with strong humane and family values, CMA CGM is committed to support fragilized children through the CMA CGM Corporate Foundation's action. Presided by Naïla Saadé, the Corporate Foundation has been supporting more than 200 projects in France and Lebanon since its creation in 2005.

On this anniversary day, the 34,000 employees of the CMA CGM Group, on land and on all the seas of the globe, celebrate this unique adventure and the success of a family Group that was built around four core values, which have forged its force and identity: Initiative, Boldness, Integrity and Imagination.