Coastguard Rescues Lakers Stuck in Ice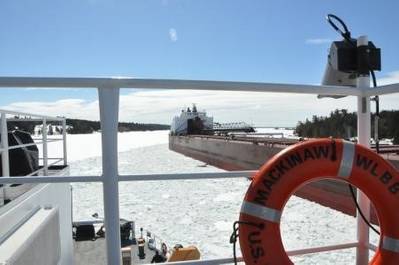 Three icebreaking cutters worked together to keep traffic moving through the St. Mary's River.

The U.S. Coast Guard Cutter Mackinaw, a 240-foot icebreaker homeported in Cheboygan, Mich., along with Coast Guard Cutter Alder, a 225-foot buoy tender with ice-breaking capabilities homeported in Duluth, Minn., and the Canadian Coast Guard Ship Samuel Risley assisted vessels in the ice-bound river.

The Mackinaw, CCGS Samuel Risley along with the Coast Guard Cutter Alder, freed the motor vessel Manitowoc from an ice plug in the vicinity of Whitefish Bay.