Coast Guard Seizes 12,000 Pounds of Cocaine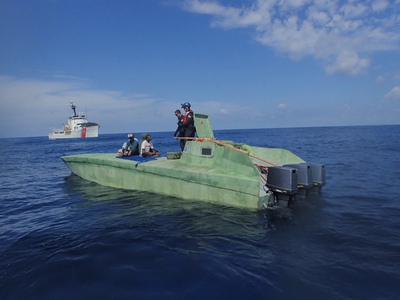 The crew of the U.S. Coast Guard Cutter Steadfast returned home to Astoria, Oregon in late December after making several drug busts while on patrol in international waters off the coasts of Mexico and
Central America
.
Over the course of a 50-day counterdrug patrol in the Eastern Pacific, Steadfast crewmembers interdicted five separate vessels engaged in suspected illegal drug smuggling. During the patrol crewmembers detected and boarded a low profile vessel, a custom fabricated boat specifically built to evade law enforcement.
The five interdictions resulted in a total seizure of approximately 12,000 pounds of cocaine with an estimated street value of over $180 million wholesale.
"During this deployment, Steadfast and her crew sailed over 11,000 miles, and their success ensured the maritime safety and security in the Eastern Pacific Region," said Cmdr. Alain Balmaceda, Steadfast's commanding officer. "Knowing we stopped tons of drugs from reaching America's shores and the streets of our allied nations in Central and South
America made
this deployment over the holidays even more rewarding."
Steadfast is a 49-year-old Reliance Class 210-foot Medium-Endurance Cutter homeported in Astoria since 1994. Nicknamed El Tiburon Blanco, or "The White Shark," Steadfast's primary missions
include law enforcement
, search and rescue, environmental protection and fisheries enforcement.