Boat 'Glass Cockpit' Wins Garmin® & Volvo Penta DAME Award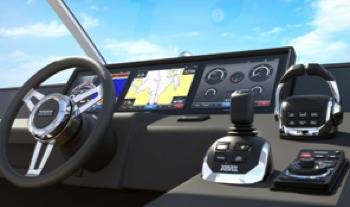 Garmin International Inc. has won the DAME Design Award at the current Marine Equipment Trade Show in the marine electronics category for their collaboration with Volvo Penta on the Volvo Penta Glass Cockpit. The DAME Design Award is awarded at METS to the best and most trendsetting new marine equipment and accessories in the industry.
Garmin jointly collaborated with Volvo Penta, to design the fully integrated Glass Cockpit, which displays control and monitoring capabilities along with navigation, engine data, warnings, alarms and other information. With full EVC functionality, the boater is able to monitor Dynamic Positioning, Interceptors and Autopilot directly from the display.

"It's an honor to share the DAME Design Award with Volvo Penta for the Volvo Penta Glass Cockpit," said Dan Bartel, vice president of worldwide sales. "Garmin is known for producing user-friendly devices and Volvo Penta has a rich history of bringing innovative technology to the marine industry. As a result of our collaboration, the Glass Cockpit defines how boating and navigating is easier than ever."

For more information about the Volvo Penta Glass Cockpit, visit www.volvopenta.com/glasscockpit.