Vigor, Ulstein Collaborate on New USCG Design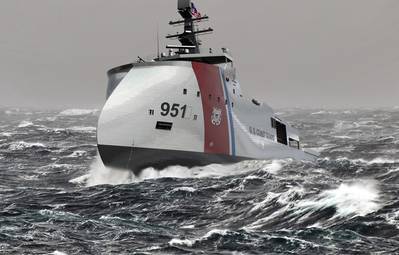 Vigor Industrial and Ulstein have been cooperating to develop a conceptual design for a coastguard vessel (OPC - Offshore Patrol Cutter), and Vigor announced Ulstein 's SX151 design in the U.S. as part of a campaign aimed at the U.S. Coast Guard, that plans to renew its fleet with up to 25 new ships. "In response to the U.S. Coast Guard's demanding Offshore Patrol Cutter requirements, Vigor Industrial looked beyond the conventional. With the Ulstein X-BOW, Vigor delivers unmatched seakeeping and endurance in a capable offshore workhorse", said Vigor in their campaign.
"We have worked together with Vigor for two years, and have developed a concept we have great faith in. The ship is 100 mlong and 16.4 mwide and has a top speed of 22 knots. A typical operating speed can vary from 5 to 22 knots, and the ship is therefore equipped with a combined diesel mechanic / diesel electric propulsion system. The ship accommodates 124 persons, is equipped with a helicopter deck and hangar, and a hangar for three rescue boats, says Deputy CEO, Tore Ulstein, responsible for Market and Innovation in
Ulstein Group
.
This is a long-term project: "Several yards are currently sending their prospects to the Coast Guard. Towards the end of 2014 or beginning of 2015, the Coast Guard will award the contract", said Ulstein.