QMT in STORM Simulator Collaboration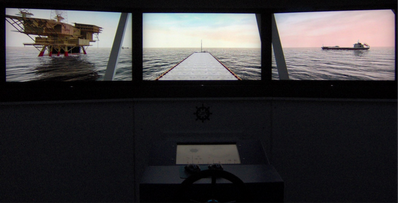 Quality Maritime Training (QMT) partners with Educational Systems & Technologies on the River and the Sea; (acronym STORM) to provice simulator & training technolgies.
Quality Maritime Training (QMT) of St. Petersburg, Florida has partnered with Educational Systems and Technologies on the River and the Sea; STORM Ltd., to provide STORM's marine simulators, computer based training (CBT) programs and crew knowledge assessment systems to U.S. mariners.
STORM is headquartered in Moscow, Russia and also has a second location in Saint Quentin, France - STORM SIM SARL. STORM's main activities are the development of innovative technologies for comprehensive training and manufacturing simulators for mariner training programs and interactive distance technologies in education.
QMT recently installed STORM's "SSH" ship steering simulator, which is designed for training, demonstration of competence in accordance with the Seafarers' Training, Certification and Watchkeeping (STCW) Code, as amended by the 2010 STCW Convention amendments for the Rating Forming Part of a Navigational Watch (RFPNW) and Able Seafarer Deck qualified ratings.

QMT obtained U.S. Coast Guard approval of STORM's simulator earlier in the year to utilize it for training and conducting the proficiency assessments as part of their Rating Forming Part of a Navigational Watch Assessment course. Once the Coast Guard publishes the pending regulations for U.S. mariner compliance with the STCW Code, as amended. QMT intends in addition to conducting the RFPNW assessments, to also use the "SSH" ship simulator to train and assess mariners for the new STCW rating Able Seafarer Deck and in ship handling for Officer in Charge of the Navigational watch (OICNW) candidates on vessels of 500GT (ITC) tonnage of more.

The "SSH" system provides the trainee with the console display for ship control and wheelhouse capabilities for autopilot, manual or tracking modes; helm wheel; engine control; magnetic compass; gyro compass repeater; bearing taking tools; course recorder; binocular view and visualization of the surrounding surface situation. The bridge view visualization of is 180º and a head rotation view to 360º. The simulator can be configured for different types of own ship models of various tonnages.

The instructor can implement ship control and navigation equipment failures for gyro-compass, steering pump and steering motor failures. Additionally, the instructor can activate ARPA guard zone intrusion alarms, gyro-compass failure alarm, smoke and/or heat detectors alarms, navigation light panel alarms, steering pump and motor failures alarms.

Simulated target vessels can be created to represent other merchant vessels, workboats, small boats, sail boats , recreational craft, patrol boats, fast rescue boats and survival craft.

The simulator allows selection of navigation exercise areas for own ship in areas of straits or narrow passages, port departure to open sea, inland waterways, inland waterways with access to the sea and open sea areas.