New Collapsible Container May Prove a Logistic Game-Changer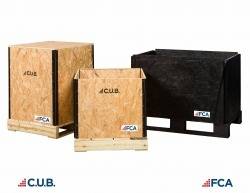 FCA, LLC, a provider of custom industrial packaging products and OEM packaging services, has launched a new and patent-pending, collapsible packaging product under the brand name C.U.B. (Collapsible Utility Box). The collapsible box is an innovative and money-saving packaging product that is available in both standard (optimized) and custom sizes.
Jeff Campagna, President of FCA and life-long industrial packaging veteran said "The C.U.B. is a unique collapsible box that addresses a market need for custom collapsible technology, but at an affordable price.

Our Patent-pending collapsible technology can bring significant savings to any supply chain including storage costs, freight costs (both inbound and outbound), and labor savings on set up and take down. It is ISPM-15 compliant, is environmentally friendly, and can nearly eliminate a company's spend on product set up. If there is a collapsible box in the industry that is easier to use, and can impact savings across the system more quickly and effectively than the C.U.B., I have not seen it."

"Some collapsible boxes exist currently in the market, but none that are as easy to set up and take down as the C.U.B.," said Mike Thompson, Director of FCA's Packaging Engineering Center. "This box has been designed with ease-of-use in mind, but particularly with the goal of dramatically reducing our customers' freight costs, distribution costs, labor costs, and system costs.
http://www.fcapackaging.com