Whaling Protest Ship Collides with Japanese Harpoon Vessel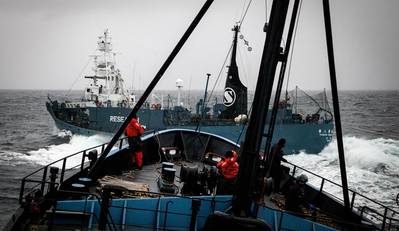 The Sea Shepherd conservation group ship 'Bob Barker' has collided with the Japanese whaling fleet harpoon vessel 'Yushin Maru No. 2' as the harpooners attempted to block them in a recent skirmish lasting about 6 hours in southern Antarctic waters.

The incident, say Sea Shepherd, is an attempt to deter the protest ships from their current position, blocking the slipway of the Nisshin Maru, in order to prevent them from loading whales poached from the Southern Ocean Whale Sanctuary.

According to the conservation group, the harpoon vessels overtook the Sea Shepherd ships from the stern, crossing the bow and coming as close as three to five metres. The Bob Barker was struck by the Yushin Maru No. 3 during one such dangerous manoeuver.

Prior to that collision, Captain Peter Hammarstedt of the Bob Barker and Captain Siddarth Chakravarty of the Steve Irwin had been able to steer out of the path of the encroaching harpoon vessels, only narrowly avoiding numerous potential collisions as the vessels moved in a circuit, weaving through and around the Sea Shepherd ships.

They add that this season, Sea Shepherd's direct intervention has led to a disastrous January for the illegal operations of the Japanese whaling fleet. Early interception and a persistent chase has enabled the Sea Shepherd Fleet to effectively suspend whaling operations and allowed the fleet to take up position and secure the slipway of the Nisshin Maru.