Car Carrier on Sea Trials Collides with Tankship, Fire Ensues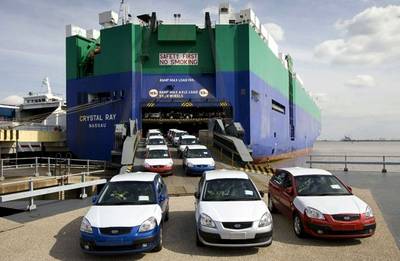 The 55,000 gt car carrier 'Gravity Highway', which was under construction in Hyundai Mipo Shipyard, collided with chemical tanker 'Maritime Maisie' while on sea trials some 9 nautical miles off Busan, reports Yonhap News Agency.

The impact caused a fire on the tanker, which was in danger of sinking, and some of the 27 crew members sustained light burns or abrasions, but none serious, officials informed Yonhap.

Sixteen coast guard boats, some Navy vessels and helicopters were sent to the scene, and rescued all crew members aboard the tanker, officials said. Firefighters suceeded later in bringing the blaze under control, wth about 4,000 tons of of the chemicals paraxylene and acrylonitrile lost from the fire.
The car carrier, Gravity Highway, which is understood to be under construction for Israel's Ray Shipping, was carrying 64 persons (many of them from the shipyard) also caught fire but it was extinguished fairly quickly and the vessel was taken in tow back to the shipbuilder's shipyard near the scene.

The Hong Kong-flagged chemical tanker Maritime Maisie, IMO 9251535, of 44,404 dwt was built in 2003, and is managed by MSI Ship Management Private Ltd, of Singapore.
Source: Yonhap News Agency/MarineLink