US Warship Collides with Tanker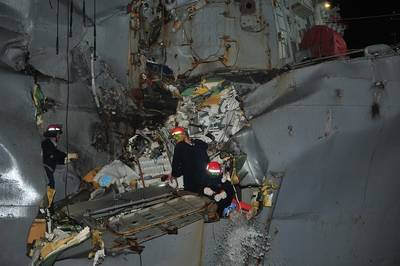 Navy destroyer 'USS Porter' and a Japanese-owned tanker collide near the Strait of Hormuz.
The impact tore open the destroyer's starboard side but left both crews unharmed, 5th Fleet said in a news release.
The circumstances of the collision — whether the collision was in the channel, the relative speeds at impact, or which ship had right of way — remain unclear.
Porter had just completed an inbound transit through the Strait of Hormuz into the Persian Gulf, said 5th Fleet spokesman Lt. Greg Raelson.
"The Japanese tanker was heading … into the Strait of Hormuz" toward the Gulf of Oman, said Raelson, who added he didn't have the exact coordinates of the collision available.
Navy photos show substantial damage to the Norfolk, Va.-based destroyer. In one, sailors in helmets with headlamps are seen inside the gaping hole, which appears to be on the maindeck not far from the entrance to the combat information center on the starboard side. Raelson said the damages were starboard side, above the waterline.
"Porter pulled into Jebel Ali in [the United Arab Emirates]," Raelson said. "They're pier-side now and getting a status for the damages."