U.S. Navy Issues Update on Hormuz Collision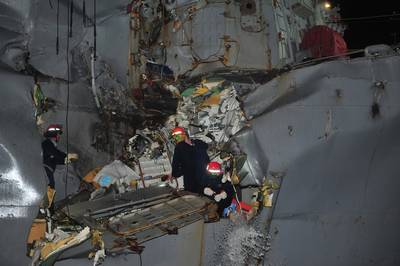 Update: No Injuries in Strait of Hormuz Collision.

No one was hurt when a U.S. Navy guided-missile destroyer and a large Japanese owned merchant vessel collided near the Strait of Hormuz Aug. 12. The collision between USS Porter (DDG 78) and the Panamanian-flagged bulk oil tanker M/V Otowasan occurred at approximately 1:00 a.m. local time. Porter transited under its own power to Jebel Ali, UAE and is now pierside for assessment and repair. The incident is under investigation. USS Porter is on a scheduled deployment to the U.S. 5th Fleet area of responsibility conducting maritime security operations and theater security cooperation efforts.