Coast Guard Commandant Visits Vietnam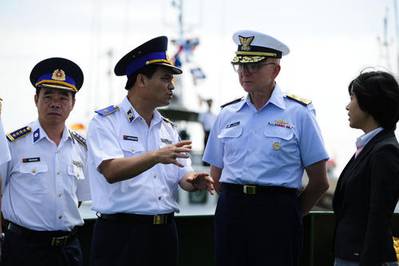 The U.S. Coast Guard continues to expand U.S. ties to Vietnam with a visit by Coast Guard Commandant Adm. Bob Papp, who became the first Commandant to visit as part of an official international outreach initiative.
Over the past three years, the Coast Guard, in close coordination with the Department of State and the U.S. Embassy in Hanoi, has been helping Vietnam to build their maritime governance capacity by providing training assistance to the Vietnam Marine Police. The VMP is a "Coast Guard-like" maritime law enforcement component within their Ministry of Defense , and will become the Vietnam Coast Guard next month.
The Coast Guard's training has focused on maritime law enforcement, search and rescue and operational planning. "Train the trainer" in nature, the U.S. Coast Guard's curriculum development assistance will have lasting benefits to Vietnamese maritime safety and security, fostering a stable environment for economic development. In another enduring form of support the U.S. Coast Guard, supported by Department of State funding, assisted the VMP with constructing a new maritime law enforcement classroom at VMP Region 1 Headquarters in Haiphong.

The groundwork for the Coast Guard's direct assistance was established by a series of U.S. and Vietnamese agreements, including a bilateral search and rescue agreement in 2002, a counternarcotics letter of agreement in 2006 and a bilateral maritime agreement in 2007 and the Megaports Agreement in 2010 to better identify weapons of mass destruction components in maritime shipping.

"Strengthening partnerships with maritime governance forces like the Vietnam Marine Police is vital to improving regional security," said the Commandant. "I'm proud of the strong foundation we have established in pursuing our shared goals of safe transportation, clean seas and secure and efficient movement of commerce. I look forward to future engagements to demonstrate the Coast Guard's sustained commitment to the VMP."

Pictured: Coast Guard Commandant Adm. Bob Papp meets with Vietnam Marine Police Director General Major Gen. Nguyen Quang Dam at the Ministry of Foreign Affairs in Hanoi.