YANMAR Debuts EPA Compliant Commercial Engine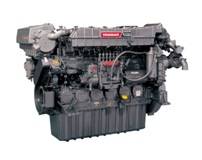 YANMAR America has introduced its new EPA Tier III compliant commercial marine diesel engine.
Rated at 755 mHP and 1,900 RPM, the new 20.38-liter 6AYAM-ET uses a fully mechanical control system for easy servicing and reliable performance, the manufacturer said.
The class-approved four-cycle, in-line six-cylinder 6AYAM-ET offers low fuel consumption and a continuous rating suitable for river push boats, tugboats, trawlers and other applications with uninterrupted operations or load cycles. Its torque characteristics allow for stable cruising with the least amount of speed reduction even with sudden load changes. A 500-hour service interval aided by a purpose-built marine design featuring a long stroke, water cooled exhaust manifold, special coated liner and nodular cast iron piston with coated piston rings assure minimum downtime to keep vessels on the water and out of the shop.
To comply with emissions regulations, the 6AYAM-ET uses an internal exhaust gas recirculation (EGR) system. This design does not require any external control devices or significant engine structure changes. In addition, the micro-sized multiple holes in the all-new injectors produce an even finer fuel mist, which combined with a combustion chamber, produces more power while also lowering exhaust emissions and fuel consumption, YANMAR said.