Dean Corgey to Serve on Port of Houston Commission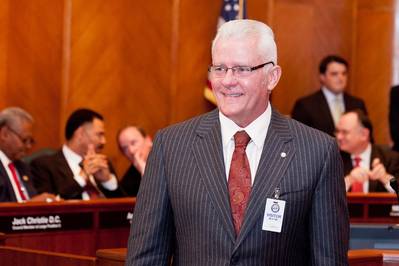 Houston City Council appoints Dean Corgey, V-P of the Seafarers International Union Gulf Coast Region, to serve as member of the Port Commission of the Port of Houston Authority.

Corgey's appointment fills the seat previously held by Janiece Longoria, who was named Port Commission Chairman January 8 during a joint session of the Houston City Council and Harris County Commissioners Court. She had served as the city appointee to the commission since 2002.
Corgey, a longtime organizer for the Seafarers Union and lifelong Houston resident, has been vice president of the Gulf Coast Region since 1990. He also serves as a vice president of the Texas AFL-CIO; as secretary-treasurer of the West Gulf Ports Council of the AFL-CIO Maritime Trades Department; and on the executive board of the Harris County AFL-CIO. He is a member of the American Maritime Partnership and the Navy League of the United States. He is a past member of the U.S. Department of Homeland Security's Area Maritime Security Committee for the Port of Houston/Galveston and served as chairman of the City of Houston Ethics Committee. In addition, he is a past member of the board of directors of the Houston Maritime Association.

Houston Mayor Annise Parker said, "It is important to have labor represented in the port's activities and it needs to be the right voice for labor. Dean Corgey is eminently qualified for this position. City Council's unanimous confirmation of his appointment indicates we are all in agreement that he will do an outstanding job."

"I come from labor and have worked the Houston waterfront for 40 years in various capacities," Corgey said. "I have also had the opportunity to work in numerous ports on all four coasts, and in my opinion, we have the best labor in the country, if not the world, right here in Houston."

Port Commissioners serve two-year terms without pay.