JonRie Deck Equipment Commissioned on New ASD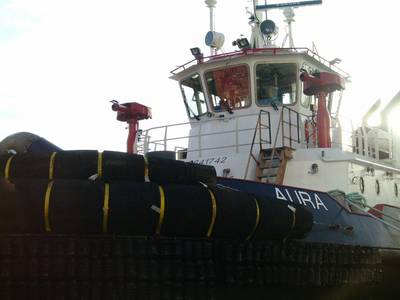 JonRie supplied deck equipment has been commissioned on the new ASD Aura from Great Lakes Shipyard, Cleveland, Ohio.
The new Tug is a Jensen designed ASD 4650 HP complete with a JonRie Series 220 Double Drum hawser winch on the bow with a capacity of 150M of 60 mm line, a line pull of 15 Tons, a line speed of 30 M/m and a brake with capacity of 200 Tons. The winch features JonRies hands free foot control, Active Heave Compensation and a Tension Readout system for every drum with night vision dimming control side lite meters. On the Stern is a JonRie Series 421 Capstan with a line speed of 10M/m and a line pull of 10 Tons. The controls are all in house JonRie Designed and supplied along with Hydraulic Power Unit also designed and provided by JonRie. The sister tug Atlas is scheduled to be delivered by summer.

The principals of JonRie will be presenting a paper on Open Ocean Towing at the Tugnology Conference 2013 in London May 14 and 15 to provide the tug community with insight in an analytical approach to designing a proper tow configuration.