Warship Sails Away for Namesake Port Commissioning Ceremony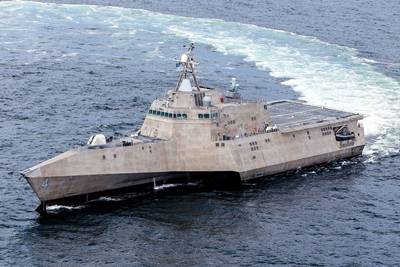 The Navy's latest littoral combat ship, the future 'USS Coronado' (LCS 4), has departed from the Austal USA shipyard in Mobile, Ala., en route to her commissioning site in Coronado, Calif. 


Coronado is the fourth littoral combat ship delivered to the Navy, and the second LCS of the aluminum, trimaran Independence variant. It is scheduled to be commissioned April 5, and will be homeported in San Diego, Calif. 


"It is exciting to see Coronado, operated by her Navy crew, exiting the new construction yard en route to her homeport," said Capt. Tom Anderson, LCS Program Manager. "There is a great sense of pride among the many who were involved in her construction in seeing her headed to sea to do what she was built to do."

During her transit to the West Coast and prior to her commissioning, Coronado will conduct hull, mechanical, and electrical system shakedown events as well as navigation checks and combat systems test events. Additionally, the crew will participate in training events to continue honing their familiarity with the Independence variant.

The littoral combat ship class is designed to defeat threats in coastal waters where increasingly capable submarines, mines, and swarming small craft operate.