U.S. Coast Guard Commissions RINA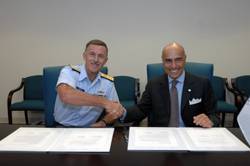 Genoa-based classification society RINA has been authorized by the U.S. Coast Guard to conduct plan review and approval and initial and subsequent surveys for U.S.-flagged cargo and passenger vessels. Under the agreement signed yesterday, RINA has received delegation for Load Line, SOLAS, MARPOL, ISM, and Tonnage survey and certification services.

The MOA delegating authority and establishing guidelines for co-operation between the USCG and RINA was signed at Coast Guard Headquarters in Washington yesterday, by Rear Admiral Paul F. Zukunft (Assistant Commandant for Marine Safety, Security and Stewardship) USCG and Ugo Salerno, CEO, RINA.

RINA was the first international classification society to sign a co-operation agreement with the USCG for foreign-flag passenger ships using US ports, and since then has worked hard with the Coast Guard to ensure that US passengers sail on safe ships. Today this new agreement recognizes the success of that agreement and makes RINA's services available to the wider US shipping industry.