US Coastguard Commissions New Fast Response Cutter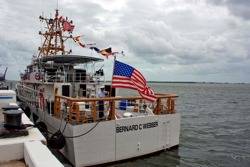 USCG commissions its first Sentinel-class cutter 'Webber' at the Port of Miami
The 154-foot Coast Guard Cutter Webber is a Fast Response Cutter and will be able to deploy independently to conduct missions such as ports, waterways, and coastal security, fishery patrols, drug and illegal migrant law enforcement, search and rescue, and national defense operations along the Gulf of Mexico and throughout the Caribbean.
The Webber is capable of speeds of 28-plus knots, armed with one stabilized, remotely operated 25mm chain gun and four crew-served .50 caliber machine guns, and crew capabilities to hold 24 people. It will be able to perform independently for a minimum of five days at sea, and be underway for 2,500 hours per year.
The new Sentinel Class patrol boats will all be named after Coast Guard heroes. The Webber is named after Coast Guard hero Bernard C. Webber. Webber is credited with helping make one of the greatest rescues in Coast Guard history.
Rear Adm. William D. Baumgartner, commander of the Miami-based district says the new class of ship will "expand the footprint" of the service not only with the range of the vessel, which can stay out nearly a month without resupply, but also the state of the art electronic suite that can communicate with other U.S. law-enforcement agencies and vessels as well as being sophisticated to operate easily with U.S. and other country's naval vessels.