IR Class Launches Advisory Committee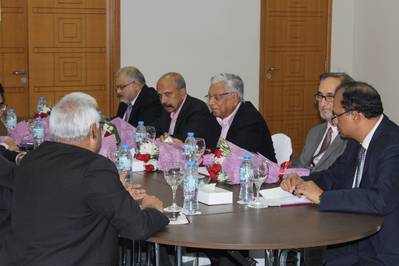 IRClass (Indian Register of Shipping) has established a senior level advisory committee in the United Arab Emirates in an effort to increase activity and foster business links in the region.

The committee comprises of 11 senior representatives from the shipping industry in UAE and is headed by Leonard B Culas, who is the MD of the Transworld Group based in Dubai.

The committee will meet on a half yearly basis in order to give high level strategic advice to IRS on how the organization can deepen and strengthen its business links and activities in UAE.

IRS currently has a growing volume of both marine and non-marine projects in the UAE and wishes to capitalize on its already strong presence there.

The meeting in Dubai was launched with a welcoming address from Suresh Sinha Regional Manager for Middle East region. Thereafter the COO C. Sriramamurthy spoke about the activities of IRS and informed the committee members that the IRS board of directors had nominated Culas as Chairman of UAE IRS advisory committee and thanked him for giving his consent.

Culas then took over the proceedings and informed the committee he was very happy to be connected with the advisory committee, adding that he would extend whatever support required to IRS to expand its services in Middle East region.

All other members also extended similar support to IRS for enhancing their activities and the advisory committee meeting was followed by an IRS -"Customer meet" session. This was attended by around 70 guests including representatives of flag administrations such as Marshall Islands, UAE, Panama and St. Vincent & Grenadines.

Sinha then gave a presentation to all customers about the activities of IRClass as well as the sister company IRClass Systems and Solutions Pvt Ltd (ISSPL). The presentation was well received by all clients who attended the meeting.