Working Harbor Committee to Screen "Liemba!"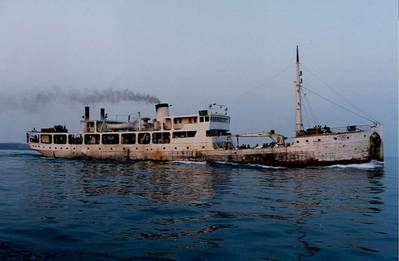 The Working Harbor Committee is presenting a screening of the documentary film "Liemba!" on Tuesday, March 31 at the Community Church of NY. The screening will feature special guest speaker James Wong, Director of Ferries, NYC Economic Development Corp.
"Liemba!" is a documentary on the history and significance of the 100-year old historic vessel MV Liemba, a ferry connecting communities and people with work on the great Lake Tanganyika, the second largest freshwater lake in the world. The lake is divided among four countries, Tanzania, Democratic Republic of Congo, Burundi and Zambia.
Tickets are $25 for adults and $20 for seniors and students. The film will be screened at 6:00 pm, with check-in starting at 5:30. A panel discussion will occur after the screening, with refreshments to follow.
The Working Harbor Committee is a non-profit organization seeking to strengthen awareness of the working harbor's history and vitality today, and its opportunities for the future.
The Community Church of NY is located at 40 East 35th St. between Madison & Park. For ticket information visit: www.workingharbor.org or call 212-757-1600.