BTS Chooses Clear-Com Communication Systems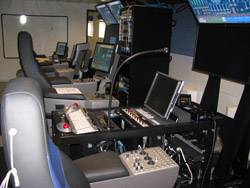 Clear-Com, a voice communication systems company, has announced that Broadcast Technical Services (BTS), an integrator of broadcast services for industrial marine ship suppliers, has selected the Clear-Com Encore™ partyline and Tempest®2400 digital wireless intercoms as its communication systems of choice for clients. The combination of the wired Encore system and 2.4GHz band wireless Tempest2400 is designed to help staff members complete tasks that run the gamut from standard oil rigging to environmental cleanup.

Many of the ships that BTS work with require flexibility and durability in both the technologies involved and the physical layout because the decks are customized to each job, adding and removing different winches and other equipment as needed. Due to its patented Frequency Hopping Spread Spectrum radio technology, Tempest2400 is designed to operate reliably in the harsh environment of an industrial ship, enabling staff members to stay in contact during critical operations such as lowering and raising cranes and remote-operated vehicles, directing helicopters landing on a heliport and locating oil rigs, among other tasks. The wet environment and the ship itself, which is built almost entirely of metal, cause multi-path signal and frequency interference issues. Tempest's RF design combined with its 2xTX redundant data transmission were developed to allow the system to break through interference and successfully transmit voice data each time.