Beam Communications Get Order for Chinese Fishing Boat SatCom Trials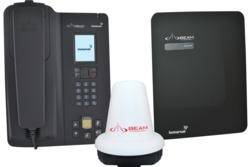 Beam receives order for major trial of Inmarsat Oceana Terminals on commercial fishing vessels in China
Beam Communications receives an initial order for USD 170,000 from a China based satellite communications company. This initial order follows a commitment by the Chinese entity to undertake a short trial deploying 200 Beam Oceana 400 and Oceana 800 marine communications terminals on fishing vessels in China, using the Inmarsat FleetPhone Service.
The trial will deploy 100 of the Beam Oceana 400 terminals and 100 of the Beam Oceana 800 terminals. The terminals were specifically designed to support the voice, data and tracking communications that take place over the Inmarsat satellite network via its 'Fleetphone' maritime service. The terminals were launched to the global market in late 2011 to specifically target high volume deployments in emerging satellite markets.
A relatively short trial period is expected and, following market acceptance, the customer expects to commit to a minimum further order of 1000 units for expansion of the trial into the broader maritime users in China.
"This is a major breakthrough for Beam into the Chinese maritime market. We are delighted to be working with a key strategic partner in China, which further reinforces Beam's position as a leading global provider of satellite communication solutions for both the Inmarsat and Iridium satellite networks", said Michael Capocchi, Managing Director, Beam Communications.