MPro Profile: Brian Pope, L-3 Communications/Marine & Power Systems Group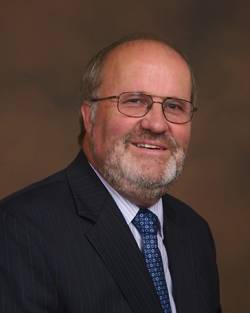 Brian Pope, Senior Vice President of business Development for L-3 Communications / Marine & Power Systems Group

• A MarPro First
If Brian Pope is not the obvious choice to be Maritime Professional magazine's first ever featured maritime professional, then perhaps the notion of who and what we consider to be important on the waterfront should be rethought. As a perfect example, Pope's influence on electrical propulsion and the development of electrical systems afloat has been nothing short of profound. And, while the typical ship's engineer might not know his name, Pope's work will likely impact how ships move through the water for generations to come.

• Defining Pope's Role for L-3
As Senior Vice President of Business Development for L-3 Communications / Marine & Power Systems Group, Brian Pope has, since joining L-3 in late 2004, been instrumental in growing the Marine Group to over $1 billion in revenues in 2009 with over 45% in the Commercial sector alone. There, L-3 supplies Electrical Propulsion, Automation and Navigation systems. Pope adds, "L-3 M&PS is a global marine group and although our commercial orders dipped in the 2008-2009 timeframe when the industry stalled, we had a strong backlog of orders that allowed us to weather that downturn and allowed us to position our commercial business for the recovery. In addition, we took the opportunity to invest in a new NACOS Platinum control and automation architecture, which has already delivered over 150 new orders."

For Pope and L-3 in particular, the advent of dynamic positioning equipment has been an exciting development. The NACOS Platinum control and automation architecture has been at the heart of L-3's efforts in this sector. He explains, "As part of our development in the new NACOS Platinum automation system, we have integrated our dynamic ship positioning modules into the same hardware, allowing common hardware architecture for a complete ship system. This provides major opportunities to provide reduced costs to ship owners and we are seeing this as a significant competitive advantage in the marketplace."

As Pope looks to grow and maintain L-3's market share, he describes a management style that is very much a hands-on type of approach. "I spend a majority of my time meeting with our customers throughout the world and visiting our operations. We continue to seek to expand L-3's product and systems portfolio by development or acquisition and are also focused on continuing our organic growth," he said. That's not to say it has been all wine and roses along the way. He adds, "The slowdown in military shipbuilding across the world definitely provides a challenge to our business, and our divisions addressing this segment of our market. However, the growth in our passenger cruise shipbuilding business is a testimony to our bridge to propeller capability and offerings."

• Pope's Electricity
A member of the American Society of Naval Engineers (ASNE), Pope has also been associated with the Marine Industry for over 25 years. Notably, and prior to joining L-3, Mr. Pope held senior positions with ALSTOM in North America, including President-U.S.A. and Regional Vice President-North America for ALSTOM Transmission & Distribution, a $400 million Business with 1,300 employees. He served as President ALSTOM Industry Group-North America from 2000 to 2001. Prior to this, Brian served as President of Cegelec USA, where he developed business with the U.S. defense industry, resulting in numerous contracts for the supply of electrical propulsion equipment including the T-AKE fleet of electric ships for the U.S. Navy.

A recognized leader and a champion of the "All-Electric" ship concept, Pope has long touted its viability to commercial and military buyers alike. He insists, "For the all electric drive -- the modern concept was pioneered by cruise ship design, although electric drive technology was used on some naval designs back in the 1930's. It was supplanted by steam and mechanical driven ships, but is now being used on a wide variety of ships. The prime drivers were fuel savings and emissions, where one is able to closely match the propulsion load to the available power generation. The second factor was the reduction in cost of electrical drives, thereby making it a more affordable design as compared its mechanical alternatives. The challenge, mainly in the 90's, was to persuade ship owners and operators, including navies, to embrace this new technology."

Arguably best known for his close involvement with the development of the "All-Electric" ship over the past years, he has presented at several conferences on the subject. Beyond this, he is a member of the Advisory Board at the Center for Advanced Power Electronics at Florida State University. Mr. Pope received his Master of Science in Management and Business Studies from the University of Warwick, Coventry, England after receiving a College Associateship in Electronic Engineering at the Bolton Institute of Technology in Bolton, England.

Not surprisingly, Pope's career path began with General Electric in the UK, where he was given responsibility for the introduction of industrial electrical variable speed drives for a wide range of applications. Following that he assumed a leadership role introducing microprocessor based automation systems for numerous applications - from car production plants to chocolate manufacturing. Later, as he took charge as President of the North American operations of CEGELEC (which was then rolled into Alstom), the growth of the all electrical ship became evident.

• Coming Up Next
Brian Pope's current choice for recreational reading – "The Beach" by Alex Garland, describing Garland's adventures in Southeast Asia – gives MarPro readers no more insight into what will come next for L-3's Senior Vice President than his promise to continue the rapid expansion of L-3's product offerings. "Having been with L-3 for over 6 years, I look forward to what lies ahead both personally here, and for our group. As for the future of L-3 M&PS, we will continue to grow our marine electrical business and are committed to building on our position as a maritime leader." Based on past performance, however, L-3's future under Pope's steady and highly technical hand will be anything but boring.

(As published in the Q2 Edition of Maritime Professional)