Dredging Contract Will Aid Fraser River BC Communities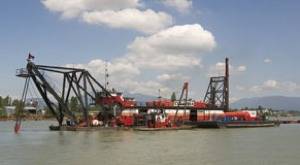 Vital access channels in the Fraser River in Steveston & Ladner will be kept navigable by a US$ 10-million joint dredging contract.

Economic activity in the area will be facilitated as a result of unprecedented collaborative work bringing together a $10 million joint commitment by Port Metro Vancouver, the Department of Fisheries and Oceans, the B.C. Ministry of Transportation and Infrastructure, the Corporation of Delta, and the City of Richmond.

"Providing clear, safe, local navigation channels is enormously important to our communities," said Kerry-Lynne Findlay, Q.C., Member of Parliament for Delta-Richmond East. "I am very proud to be a part of this collaborative team and to be part of this important initiative, which builds on the ongoing support of the Harper Government, to ensure safe access to small craft harbours across the country. The commitment announced today creates new opportunities for our government to incorporate additional, complementary dredging work within the Steveston and Ladner small craft harbours into its planning for 2013-14, which will help keep our local Steveston and Ladner small craft harbours navigable."

The project will meet Transport Canada safe navigation requirements for the largest commercial fishing and recreational vessels that access these channels. It also includes funds for maintenance dredging for up to the next ten years to promote sustainable economic and environmental revitalization of the harbours and waterfront.

Port Metro Vancouver is the first port authority in Canada to provide funding for local communities with waterways falling outside of the main domestic and international shipping channels. Launched in November 2009, the program is part of Port Metro Vancouver's long-term dredging strategy for the Fraser River.